Bhagalpur Katarni Rice (Chawal) Pack Of 5Kg

Market Price : Rs. 560
You Save : Rs. 135 [24% OFF]
Deal Price : Rs. 425
Special Features
Inclusive of all taxes.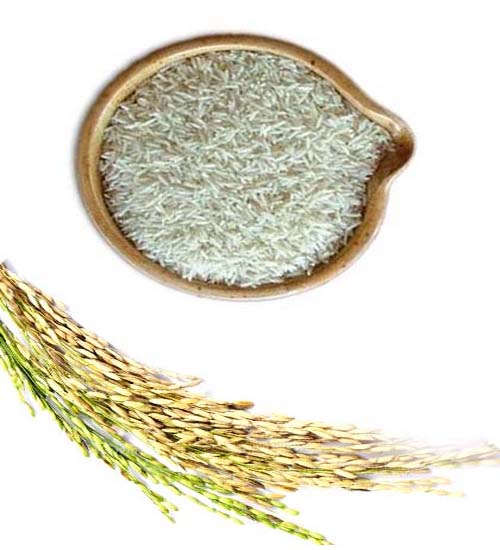 Check delivery and payment options at your location
FREE Delivery on orders over Rs 999.00
Delivery Details
---
About the Product


Delicious & Flavorful Healthy Poha


Made from Special Katarni Chawal/Rice of Bhagalpur Region


Cholestrol Free


FSSAI Registered Product. 100% Quality Guarantee


The Good Old Flavour & Taste in every Single Pack.


Bhagalpur Katarni Chura Poha (Bitten RIce / Avalakki / Atukulu) directly from Bhagalpur
Katarni Chura is made of Katarni Chawal. Katarni Chawal is not just another variety of rice, with its unique aroma it is treated more as a local relish. This variety of rice is in a huge demand not just in the Bhagalpur district to which it is native to but also throughout the country. . It is believed that the aroma and the taste of Katrani Chawal, is the gift of the environment that is formed naturally in this district, as the same aroma and taste do not get replicated in the chawal made anywhere in the world. The rice is cooked on special occasions and served to in the homes of both the affluent and the commoners.
*Currently available for delivery within Indian Cities.
| Product Information | |
| --- | --- |
| Product ID | 39205 |
| Name | Bhagalpur Katarni Rice (Chawal) Pack Of 5kg |
| Size | 5 Kg |
| Colour | - |
| Type | Grocery and Gourmet Foods |
| Brand | - |
| Sub Type | Rice |
| Meterial Involved | - |
Please Note: All products sold on Bazaarmantri are brand new and 100% genuine
RECOMMENDED PRODUCTS
Purestina-D
Deal Price : Rs 420
Price : Rs 460

Miniature Cricket Bat
Deal Price : Rs 150
Price : Rs 299

Purestina
Deal Price : Rs 399
Price : Rs 450

Earring
Deal Price : Rs 550
Price : Rs 699

Earring
Deal Price : Rs 449
Price : Rs 699

Earring
Deal Price : Rs 549
Price : Rs 699

Necklace
Deal Price : Rs 499
Price : Rs 699

Necklace
Deal Price : Rs 449
Price : Rs 699

Necklace
Deal Price : Rs 995
Price : Rs 1250

Necklace
Deal Price : Rs 795
Price : Rs 899

Necklace
Deal Price : Rs 499
Price : Rs 699

Necklace
Deal Price : Rs 249
Price : Rs 499

Necklace
Deal Price : Rs 399
Price : Rs 499

Necklace
Deal Price : Rs 299
Price : Rs 499

Hairband
Deal Price : Rs 145
Price : Rs 299

Earring
Deal Price : Rs 399
Price : Rs 699

Earring
Deal Price : Rs 349
Price : Rs 599

Earring
Deal Price : Rs 349
Price : Rs 599

Earring
Deal Price : Rs 349
Price : Rs 599

Earring
Deal Price : Rs 249
Price : Rs 399

Earring
Deal Price : Rs 299
Price : Rs 399

Earring
Deal Price : Rs 449
Price : Rs 645

Necklace
Deal Price : Rs 849
Price : Rs 1045

Bangles
Deal Price : Rs 750
Price : Rs 899

Brasslate
Deal Price : Rs 249
Price : Rs 399