Roxx Glass Set, 4X4X2, 6-Piece, White





Market Price : Rs. 295
You Save : Rs. 44 [15% OFF]
Deal Price : Rs. 251
Special Features
Inclusive of all taxes.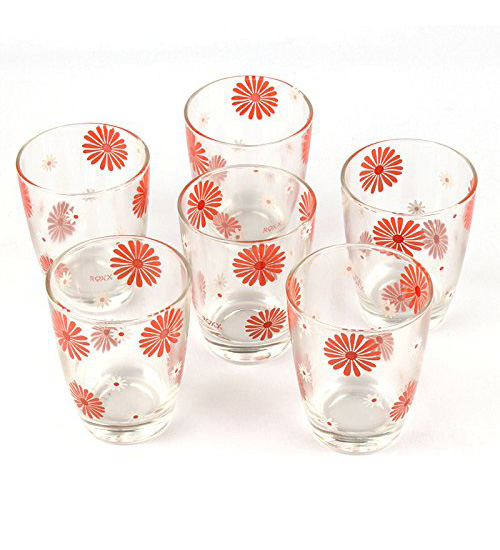 Check delivery and payment options at your location
FREE Delivery on orders over Rs 999.00
Delivery Details
---
About the Product
Color : white, glass material

Package contents: 6 glass

Sleek design.dishwasher safe

Freezer safe and microwave safe

Size:4x4x2


Product Description
Roxx introduces an extensive range of premium cutlery, steel flasks, jugs, storage jars, tumblers, dinnerware and other useful things, so affordable for daily use, making everyday worth celebrating for the entire family. Kitchen wares offered by this prominent brand ensure a dependable range to buy. The company marked as the most preferable lifestyle brand in india has been able to mark a niche in the indian market via its product range.


| Product Information | |
| --- | --- |
| Product ID | 7034 |
| Name | Roxx Glass Set, 4x4x2, 6-Piece, White |
| Size | - |
| Colour | Transparent |
| Type | Home Kitchen Appliances |
| Brand | Roxx |
| Sub Type | Tumbler |
| Meterial Involved | Glass |
Please Note: All products sold on Bazaarmantri are brand new and 100% genuine
RECOMMENDED PRODUCTS
Roxx Dottix Bowl 3Pcs
Deal Price : Rs 446
Price : Rs 525

Roxx Primerose Bowl 3P
Deal Price : Rs 446
Price : Rs 525

Roxx Quadro 4 Pcs Bowl
Deal Price : Rs 506
Price : Rs 595

Roxx Viva Gold 3 Pc Bo
Deal Price : Rs 302
Price : Rs 355

Roxx Viva 3 Pcs Bowl S
Deal Price : Rs 302
Price : Rs 355

Roxx Coronation Gold 2
Deal Price : Rs 740
Price : Rs 870

Roxx Coronation Gold 6
Deal Price : Rs 795
Price : Rs 935

Roxx Joy Bowl
Deal Price : Rs 208
Price : Rs 245

Roxx Rose Gold Square
Deal Price : Rs 740
Price : Rs 870

Roxx Rose Gold Square
Deal Price : Rs 795
Price : Rs 935

Roxx Rose Gold Bowl Ce
Deal Price : Rs 1016
Price : Rs 1195

Roxx Rose Gold 2 Psc S
Deal Price : Rs 740
Price : Rs 870

Roxx Rose Gold 6 Psc S
Deal Price : Rs 795
Price : Rs 935

Roxx Rio Square Bowl 2
Deal Price : Rs 395
Price : Rs 465

Roxx Rio Bowl 6 Pcs Se
Deal Price : Rs 676
Price : Rs 795

Roxx Waltz Round With
Deal Price : Rs 548
Price : Rs 645

Roxx Waltz Flower With
Deal Price : Rs 548
Price : Rs 645

Roxx Waltz Rectangle W
Deal Price : Rs 548
Price : Rs 645

Roxx Rio Heart Tray 22
Deal Price : Rs 633
Price : Rs 745

Roxx Sino Serving Tray
Deal Price : Rs 752
Price : Rs 885

Roxx Rio Bowl 2 Pcs Se
Deal Price : Rs 395
Price : Rs 465

Roxx Truffle Fondue Se
Deal Price : Rs 421
Price : Rs 495

Roxx Peacock Platter 1
Deal Price : Rs 931
Price : Rs 1095

Roxx Flo Pack Of 2 Cas
Deal Price : Rs 1016
Price : Rs 1195

Roxx Kia Pack Of 2 Cas
Deal Price : Rs 1016
Price : Rs 1195