Havells 25 Ltrs Bueno Geyser White



Market Price : Rs. 11610
You Save : Rs. 1393 [12% OFF]
Deal Price : Rs. 10217
5 years for inner tank and 2 years on electrical components
Inclusive of all taxes.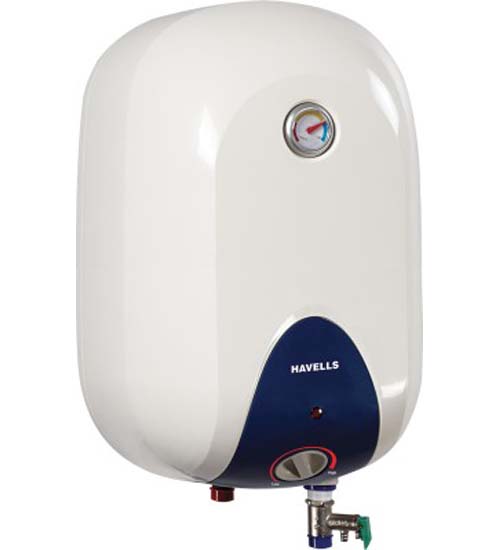 Check delivery and payment options at your location
---
*Free delivery on orders over Rs 999.00 (for general category items or items weighing under 500g) Delivery Details
About the Product
General
Type Geyser
Capacity 16 - 25 Ltr
Body Material ABS
Orientation
Safety Features
Additional Features
Technical
Power Consumption (Watts)
Dimensions (LxWxH) 380 x 410 x 670

Installation)
1 The Brand does not provide Installation service for these kind of products.
2 The Customer can avail installation services from a third party vendor.

| Product Information | |
| --- | --- |
| Product ID | 11649 |
| Name | Havells 25 Ltrs Bueno Geyser White |
| Size | 25 L |
| Colour | White |
| Type | Electronics |
| Brand | HAVELLS |
| Sub Type | Geyser |
| Material Involved | - |
Please Note: All products sold on Bazaarmantri are brand new and 100% genuine
RECOMMENDED PRODUCTS
Kenstar Electric Geyser 15 Ltr Jacuzzi Kgs15W6P
Deal Price : Rs 7050
Price : Rs 9995

Kenstar Jacuzzi 15-Litre 2000 Watt Storage Water Heater
Deal Price : Rs 6495
Price : Rs 8495

Kenstar 15 L Storage Water Geyser (Jacuzzi Kgs15W5P)
Deal Price : Rs 6495
Price : Rs 8495

Havells 300 Mm Swing D'zire Wall Fan
Deal Price : Rs 2199
Price : Rs 2425

Havells 1320 Mm Aureus Ceiling Fan -Chrome Finish
Deal Price : Rs 16486
Price : Rs 19395

Havells Velocity 600Mm Brown Ceiling Fan
Deal Price : Rs 1883
Price : Rs 2215

Havells Pace750Mm Brown Ceiling Fan
Deal Price : Rs 1828
Price : Rs 2150

Havells Pacer 600Mm Brown Ceiling Fan
Deal Price : Rs 1828
Price : Rs 2150

Havells Velocity Hs 1200Mm Ivory Ceiling Fan, 75W, 400Rpm
Deal Price : Rs 1883
Price : Rs 2215

Havells 1200 Mm Velocity Hs Ceiling Fan Elegant White
Deal Price : Rs 1883
Price : Rs 2215

Havells Vogue Plus 1200Mm Decorative Ceiling Fan (Silver Blue)
Deal Price : Rs 2117
Price : Rs 2490

Havells Fusion-50 1200Mm Pearl-Ivory-Gold Ceiling Fan
Deal Price : Rs 2525
Price : Rs 2970

Havells Ss-390 Deco 1200Mm Ceiling Fan (Pearl Ivory)
Deal Price : Rs 2117
Price : Rs 2490

Havells Atria Elegant 1200Mm 3 Blade Ceiling Fan - White
Deal Price : Rs 2210
Price : Rs 2600

Havells Pearl Copper Gold Festiva Ceiling Fan, Sweep: 1200 Mm
Deal Price : Rs 2401
Price : Rs 2825

Havells Nicola 1200Mm 68-Watt Ceiling Fan (Gold Mist And Copper)
Deal Price : Rs 2588
Price : Rs 3045

Havells Joy Decorative 1200Mm Pearl Ivory Brown Ceiling Fan
Deal Price : Rs 2605
Price : Rs 3065

Havells Trioka 48 1200Mm Campagne Honey Ceiling Fan
Deal Price : Rs 2448
Price : Rs 2880

Havells 1320 Mm Veneto Ceiling Fan -Brushed Nickel
Deal Price : Rs 20596
Price : Rs 24230

Havells 1320 Mm Florina Ceiling Fan -Brushed Nickel
Deal Price : Rs 24353
Price : Rs 28650

Havells Fhcfcstbac48 1200 Mm Black Antique Copper Florence Ceiling Fan
Deal Price : Rs 6333
Price : Rs 7450

Havells Lumos 1320 Mm 5 Blades Brushed Aluminium Ceiling Fan
Deal Price : Rs 28110
Price : Rs 33070

Havells Monza 50 Slk Hb Geyser
Deal Price : Rs 13895
Price : Rs 15790

Havells Monza 15 Slk Hb Geyser
Deal Price : Rs 8043
Price : Rs 9140

Havells Atilla Pearl White Wood Ceiling Fan, Sweep: 1200 Mm
Deal Price : Rs 2627
Price : Rs 3090