Physics Of The Impossible By Michio Kaku





Market Price : Rs. 499
You Save : Rs. 100 [20% OFF]
Deal Price : Rs. 399
Inclusive of all taxes.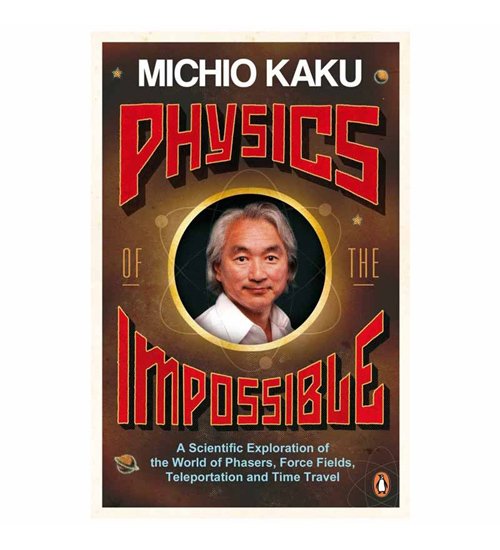 Check delivery and payment options at your location
---
*Free delivery on orders over Rs 999.00 (for general category items or items weighing under 500g) Delivery Details
About the Product
Many of today's technologies were yesterday's dreams. Most of those dreams were considered impossibilities. Current telecommunication technology, nuclear energy, computers, etc., were wild speculations, if that, a few decades ago. Many of these were not even dreamt of a century ago. Yet, they happened. May be, what seems impossible today will be tomorrow's science. That is what this book is about. Physics Of The Impossible discusses many scientific speculations that sound like science fiction. The author divides civilizations based on their scientific knowledge. Humans, at this point in time, are categorized as belonging to Type 0 civilizations. A Type 1 civilization is expected to harness all the potential power that the planet can offer. It utilizes all sunlight, can harness the power of volcanoes, can control natural forces like earthquakes, and play with the weather.


A Type 2 civilization uses the full power of their star, harnessing all its energy to provide fuel for their needs. A Type 3 civilization is expected to harness the power of many suns, control a galactic power source. With the knowledge that humans have now, the author classifies impossibilities into three classes. The first class of impossibilities include uncovering hard evidence and scientific facts about fantastic concepts like anti-universe, phasers and alien beings. It also covers unlocking potential human powers like telepathy, and psychokinesis, and developing technologies that could result in the creation of starships and robots. Class I Impossibilities, the author says, might take a century or a few centuries to realize. The second class of impossibilities are fields of even wilder speculation. These include learning the secrets of time travel, faster than light speeds and parallel universes. These, he says, might take a few millennia, some even a million years, to become accomplished and proven facts.


Class III impossibilities stand at the very edge or even beyond wild scientific imagination. These are so remote because they will involve breaking known laws of physics. These include precognition and perpetual motion machines. If these technologies and ideas are to be realized, it would involve a huge shift in scientific perspectives, a redefining of scientific laws thus far recognized as facts. Physics Of The Impossible is an entertaining read. It explores topics that are the basis of fascinating sci-fi novels and movies. It entices the readers to ask themselves if today's science fiction can really be tomorrow's technology, or scientific fact.

| Product Information | |
| --- | --- |
| Product ID | 13659 |
| Name | Physics of the Impossible by Michio Kaku |
| Size | - |
| Colour | - |
| Type | Books |
| Brand | - |
| Sub Type | book |
| Material Involved | - |
Please Note: All products sold on Bazaarmantri are brand new and 100% genuine
RECOMMENDED PRODUCTS
Quantitative Aptitude For Competitive Examinations Paperback – 21 Feb 2017
Deal Price : Rs 546
Price : Rs 546

A Brief History Of Modern India (2018-2019) Session By Spectrum Book Paperback – 2018
Deal Price : Rs 249
Price : Rs 249

Brief Answers To The Big Questions Hardcover – 17 Oct 2018
Deal Price : Rs 455
Price : Rs 455

Immortal Talks Paperback – 2017
Deal Price : Rs 241
Price : Rs 241

Apke Avchetan Man Ki Shakti (The Power Of Your Subconscious Mind In Hindi) (Hindi) Paperback – Dec
Deal Price : Rs 99
Price : Rs 99

The Monk Who Sold His Ferrari Paperback – 25 Sep 2003
Deal Price : Rs 118
Price : Rs 118

Pyjamas Are Forgiving Paperback – 7 Sep 2018
Deal Price : Rs 199
Price : Rs 199

Attitude Is Everything: Change Your Attitude ... Change Your Life! Paperback – 15 May 2015
Deal Price : Rs 118
Price : Rs 118

The Intelligent Investor (English) Paperback – 2013 Paperback – 2013
Deal Price : Rs 336
Price : Rs 336

1001 Activities Book Paperback – 2017
Deal Price : Rs 245
Price : Rs 245

Rich Dad Poor Dad (Hindi) Paperback – 1 Sep 2002
Deal Price : Rs 143
Price : Rs 143

Nta Ugc Net/set/jrf - Paper 1: Teaching And Research Aptitude By Pearson Paperback – 1 Sep 2018
Deal Price : Rs 157
Price : Rs 157

Word Power Made Easy Paperback – Print, Jun 2011
Deal Price : Rs 119
Price : Rs 119

The Alchemist Paperback – 17 Oct 2005
Deal Price : Rs 209
Price : Rs 209

Inner Engineering: A Yogi'S Guide To Joy Paperback – 12 Dec 2016
Deal Price : Rs 211
Price : Rs 211

General Knowledge Paperback – 2018
Deal Price : Rs 141
Price : Rs 141

Rich Dad Poor Dad: What The Rich Teach Their Kids About Money That The Poor And Middle Class Do Not!
Deal Price : Rs 287
Price : Rs 287

Indian Polity 5Th Edition Paperback – 28 Oct 2016
Deal Price : Rs 499
Price : Rs 499

How To Win Friends And Influence People Paperback – 26 Sep 2016
Deal Price : Rs 99
Price : Rs 99

Sapiens: A Brief History Of Humankind Paperback – 11 Jun 2015
Deal Price : Rs 262
Price : Rs 262

The Subtle Art Of Not Giving A F*ck Paperback – 19 Jan 2017
Deal Price : Rs 283
Price : Rs 283

Life's Amazing Secrets: How To Find Balance And Purpose In Your Life Paperback – Import, 8 Oct 201
Deal Price : Rs 225
Price : Rs 225

Think And Grow Rich Paperback – 1 Jan 2014
Deal Price : Rs 69
Price : Rs 69

Diary Of A Wimpy Kid: The Meltdown (Book 13) (Diary Of A Wimpy Kid 13) Hardcover – 30 Oct 2018
Deal Price : Rs 248
Price : Rs 248

Becoming Hardcover – Import, 13 Nov 2018
Deal Price : Rs 623
Price : Rs 623