Havells 15L Bello Geyser White Blue





Market Price : Rs. 10530
You Save : Rs. 1579 [15% OFF]
Deal Price : Rs. 8951
2 Years Warranty on Inner Heating Elements, 5 Years Warranty on Tank
Inclusive of all taxes.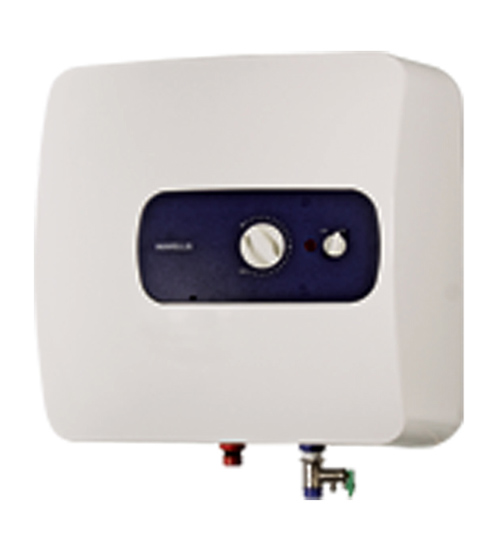 Check delivery and payment options at your location
---
*Free delivery on orders over Rs 999.00 (for general category items or items weighing under 500g) Delivery Details
About the Product

General
Brand Havells
Model Bello
Specifications
Storage 15 L
Earth leakage circuit breaker (ELCB) Yes
Heating indicator lamp Yes
Technology Water tubes with whirl flow technology
Tank Material Inner tank made of ultra thick superior cold rolled steel
Star Rating 5 Star
Incoloy Heating Element Yes
Additional Features Adjustable knob for temperature settings between 25°C to 75° C for energy savings, Ensure high level of protection to electricalparts from water splashing, Energy Saving High Density Puf Insulations, Heavy duty anode rod protects tank from corrosion
Installation)
1 The Brand does not provide Installation service for these kind of products.
2 The Customer can avail installation services from a third party vendor.
| Product Information | |
| --- | --- |
| Product ID | 4625 |
| Name | Havells 15L Bello Geyser White Blue |
| Size | 15L |
| Colour | white,Blue |
| Type | Electronics |
| Brand | Havells |
| Sub Type | Bello Geyser |
| Material Involved | Plastic |
Please Note: All products sold on Bazaarmantri are brand new and 100% genuine
RECOMMENDED PRODUCTS
Havells 300 Mm Swing D'zire Wall Fan
Deal Price : Rs 2199
Price : Rs 2425

Havells 1320 Mm Aureus Ceiling Fan -Chrome Finish
Deal Price : Rs 16486
Price : Rs 19395

Havells Velocity 600Mm Brown Ceiling Fan
Deal Price : Rs 1883
Price : Rs 2215

Havells Pace750Mm Brown Ceiling Fan
Deal Price : Rs 1828
Price : Rs 2150

Havells Pacer 600Mm Brown Ceiling Fan
Deal Price : Rs 1828
Price : Rs 2150

Havells Velocity Hs 1200Mm Ivory Ceiling Fan, 75W, 400Rpm
Deal Price : Rs 1883
Price : Rs 2215

Havells 1200 Mm Velocity Hs Ceiling Fan Elegant White
Deal Price : Rs 1883
Price : Rs 2215

Havells Vogue Plus 1200Mm Decorative Ceiling Fan (Silver Blue)
Deal Price : Rs 2117
Price : Rs 2490

Havells Fusion-50 1200Mm Pearl-Ivory-Gold Ceiling Fan
Deal Price : Rs 2525
Price : Rs 2970

Havells Ss-390 Deco 1200Mm Ceiling Fan (Pearl Ivory)
Deal Price : Rs 2117
Price : Rs 2490

Havells Atria Elegant 1200Mm 3 Blade Ceiling Fan - White
Deal Price : Rs 2210
Price : Rs 2600

Havells Pearl Copper Gold Festiva Ceiling Fan, Sweep: 1200 Mm
Deal Price : Rs 2401
Price : Rs 2825

Havells Nicola 1200Mm 68-Watt Ceiling Fan (Gold Mist And Copper)
Deal Price : Rs 2588
Price : Rs 3045

Havells Joy Decorative 1200Mm Pearl Ivory Brown Ceiling Fan
Deal Price : Rs 2605
Price : Rs 3065

Havells Trioka 48 1200Mm Campagne Honey Ceiling Fan
Deal Price : Rs 2448
Price : Rs 2880

Havells 1320 Mm Veneto Ceiling Fan -Brushed Nickel
Deal Price : Rs 20596
Price : Rs 24230

Havells 1320 Mm Florina Ceiling Fan -Brushed Nickel
Deal Price : Rs 24353
Price : Rs 28650

Havells Fhcfcstbac48 1200 Mm Black Antique Copper Florence Ceiling Fan
Deal Price : Rs 6333
Price : Rs 7450

Havells Lumos 1320 Mm 5 Blades Brushed Aluminium Ceiling Fan
Deal Price : Rs 28110
Price : Rs 33070

Havells Monza 50 Slk Hb Geyser
Deal Price : Rs 13895
Price : Rs 15790

Havells Monza 15 Slk Hb Geyser
Deal Price : Rs 8043
Price : Rs 9140

Havells Atilla Pearl White Wood Ceiling Fan, Sweep: 1200 Mm
Deal Price : Rs 2627
Price : Rs 3090

Havells Monza 35 Slk Hb Geyser
Deal Price : Rs 11189
Price : Rs 12715

Havells Enticer 48 - Pack Of 2 (Pearl White Gold)
Deal Price : Rs 2525
Price : Rs 2970

Havells 25L Monza Slk Hb Geyser White
Deal Price : Rs 9055
Price : Rs 10290