Vega Regular Tail Comb 1243





Market Price : Rs. 49
You Save : Rs. 10 [20% OFF]
Deal Price : Rs. 39
Enter PINCODE below to know the delivery charges.
Inclusive of all taxes.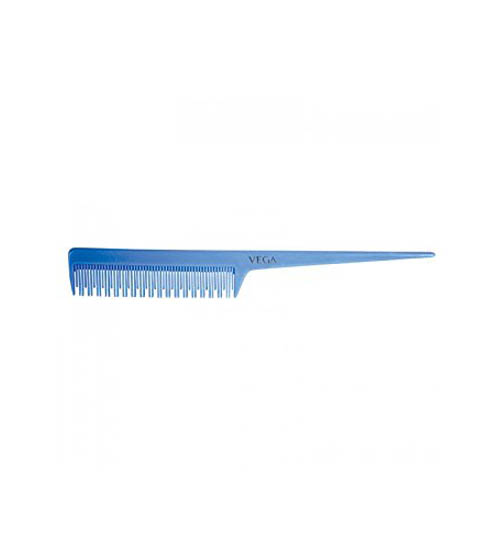 Check delivery and payment options at your location
---
*Free delivery on orders over Rs 999.00 (for general category items or items weighing under 500g) Delivery Details
About the Product
roduct details
Product Dimensions: 28 x 7.5 x 0.3 cm ; 18 g
Boxed-product Weight: 18 g
Manufacturer reference: 1243
ASIN: B01A2BTIFO

Daily styling for styles that require body and volume.
These combs can provide a stimulating scalp massage and aids conditioning.
These combs are very gentle styling tools for hair.
Available in a variety of types and design.
VEGA: A name that is synonymous with Highest Degree of Customer Service and an Unparalleled Product Range!
Please Note: All products sold on Bazaarmantri are brand new and 100% genuine
RECOMMENDED PRODUCTS
Vega Axor A1 Force White Base Green Graphic Helmet
Deal Price : Rs 2421
Price : Rs 2690

Vega Crux Half Face Helmet (Black, M)
Deal Price : Rs 1093
Price : Rs 1214

Vega 5100-013 Altura Electric Snow Full Face Helmet (Gloss Black Medium)
Deal Price : Rs 33624
Price : Rs 37360

Vega Xts Flame With Silver Glitter Outline Half Helmet (Pink X-Large)
Deal Price : Rs 15669
Price : Rs 17410

Vega X-280 Open Face Helmet (Red X-Small)
Deal Price : Rs 8838
Price : Rs 9820

Vega Insight Snow Full Face Helmet (Candy Red Large)
Deal Price : Rs 19282
Price : Rs 21424

Vega X-380 Open Face Helmet With Old Skool Color Graphic (Red X-Large)
Deal Price : Rs 9216
Price : Rs 10240

Vega X-380 Open Face Helmet With Old Skool Graphic (Flat Black/monochrome Small)
Deal Price : Rs 9288
Price : Rs 10320

Vega X380 Open Face Helmet (Candy Red Small)
Deal Price : Rs 10413
Price : Rs 11570

Vega X380 Open Face Helmet (Pink X-Large)
Deal Price : Rs 10737
Price : Rs 11930

Vega Formula Hp Full Face Helmet Dull Black
Deal Price : Rs 939
Price : Rs 1043

Vega X380 Open Face Helmet (Red Small)
Deal Price : Rs 10413
Price : Rs 11570

Vega Xts Half Helmet (Gloss Black Xx-Large)
Deal Price : Rs 8189
Price : Rs 9099

Vega X-380 Open Face Helmet With Speed Devil Graphics (Flat Black X-Large)
Deal Price : Rs 9089
Price : Rs 10099

Vega Novelty Eagle Helmet
Deal Price : Rs 882
Price : Rs 980

Vega X380 Open Face Helmet With Forest Graphic (Camo Small)
Deal Price : Rs 12474
Price : Rs 13860

Vega Xta Half Helmet With Born To Ride Graphic (X-Small)
Deal Price : Rs 10413
Price : Rs 11570

Vega Full Face Helmet White
Deal Price : Rs 1799
Price : Rs 1999

Vega X-380 Open Face Helmet With Old Skool Graphic (Flat Black/monochrome X-Small)
Deal Price : Rs 8523
Price : Rs 9470

Vega Novelty Hawk Dull Black
Deal Price : Rs 882
Price : Rs 980

Vega Xta Half Helmet With Semper Fi Graphic (X-Large)
Deal Price : Rs 8928
Price : Rs 9920

Vega Crux White Helmet
Deal Price : Rs 1093
Price : Rs 1214

Vega Xta Half Helmet With Flight On Graphic (X-Large)
Deal Price : Rs 9738
Price : Rs 10820

Vega Insight Full Face Helmet (Gloss Black Large)
Deal Price : Rs 13482
Price : Rs 14980

Vega Insight Full Face Helmet (Candy Red Large)
Deal Price : Rs 13482
Price : Rs 14980