Handicraft Dhokra Warli Key Holder





Market Price : Rs. 1299
You Save : Rs. 91 [7% OFF]
Deal Price : Rs. 1208
Inclusive of all taxes.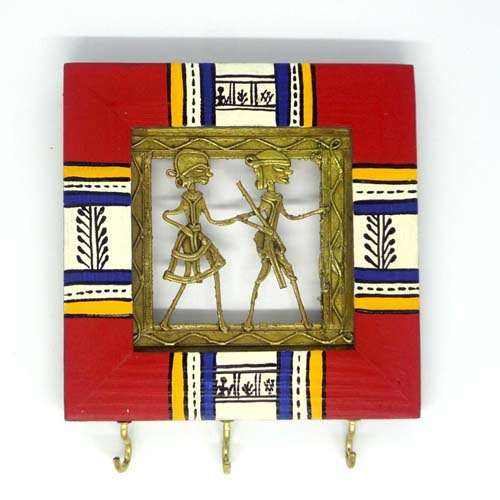 Check delivery and payment options at your location
---
*Free delivery on orders over Rs 999.00 (for general category items or items weighing under 500g) Delivery Details
About the Product
Brand - Aakriti

Type - Wall Accent

Color - Red

Material - Wood

Dimensions - 6 x 6 inch

Product Code: 727805

Crafted impeccably from wood, this wall art piece from Aakriti comes in a beautiful shape and looks really flamboyant and regal in its attractive color. This will certainly change the look of your living room.

Please Note: All products sold on Bazaarmantri are brand new and 100% genuine
RECOMMENDED PRODUCTS
Musical Instruments Wrought Iron Key Holder
Deal Price : Rs 844
Price : Rs 1099

Happiness Homemade Key Holder
Deal Price : Rs 1075
Price : Rs 1500

Stone Studded Leaves 5 Hooks Key Holder
Deal Price : Rs 540
Price : Rs 999

Lord Ganesha And Peocock Keyholder
Deal Price : Rs 1099
Price : Rs 1699

Heart Shape Crystal Studded Keyholder
Deal Price : Rs 699
Price : Rs 999

Hut Shape Papier-Mache Keyholder
Deal Price : Rs 699
Price : Rs 999

Lord Ganesha Papier-Mache Keyholder
Deal Price : Rs 699
Price : Rs 999

Shahi Pankhi Key Holder
Deal Price : Rs 899
Price : Rs 1099

Heart Shape Peococks 5 Hooks Key Holder
Deal Price : Rs 540
Price : Rs 999

Artistic Iron Lord Ganesha Key Holder
Deal Price : Rs 849
Price : Rs 1499

Mor Pankh Key Holder
Deal Price : Rs 849
Price : Rs 1499

Om And Krishna Design Key Holder
Deal Price : Rs 995
Price : Rs 1499

Lord Ganesha Under Tree Key Holder
Deal Price : Rs 599
Price : Rs 999

Kalash Shehnai 5 Hooks Key Holder
Deal Price : Rs 540
Price : Rs 999

Floral Tilak Design 5 Hooks Key Holder
Deal Price : Rs 544
Price : Rs 999

Elephant Key Holder
Deal Price : Rs 599
Price : Rs 999

Beautiful Embossed Bird Design 4 Hooks Key Holder
Deal Price : Rs 540
Price : Rs 999

Decorative Elephant Papier-Mache Keyholder
Deal Price : Rs 699
Price : Rs 999

Tree Design 4 Hooks Key Holder
Deal Price : Rs 540
Price : Rs 999

Graceful Multi Shelf Wall Hanging
Deal Price : Rs 4199
Price : Rs 8000

Mor Pankh Key Holder
Deal Price : Rs 790
Price : Rs 999

Mango Wood Pot Shelves
Deal Price : Rs 819
Price : Rs 1099

Happily Unmarried Goods Carrier Key Holder Red
Deal Price : Rs 1000
Price : Rs 1200

Dhokra Madhubani Work Key Holder - Dark Brown
Deal Price : Rs 950
Price : Rs 1599

Buddha Head On Elephant Trunk Wrought Iron Key Holder
Deal Price : Rs 844
Price : Rs 1099