Lord Ganesha Resting On Wrought Iron Key Holder





Market Price : Rs. 1099
You Save : Rs. 176 [16% OFF]
Deal Price : Rs. 923
Inclusive of all taxes.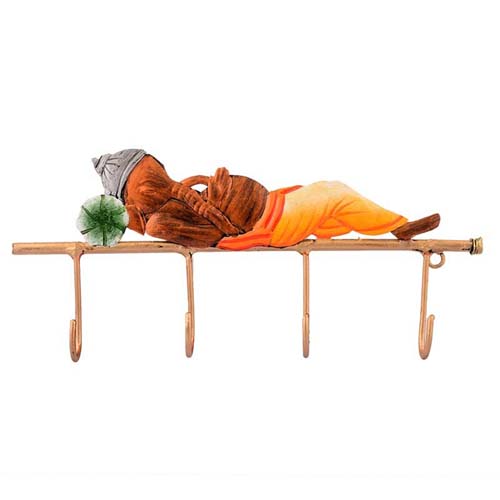 Check delivery and payment options at your location
---
*Free delivery on orders over Rs 999.00 (for general category items or items weighing under 500g) Delivery Details
About the Product
Brand - eCraftIndia

Type - Key Holder

Dimensions - 25.4 x 0.6 x 11.4 cm

Material - Wrought Iron

Color - Brown, Yellow and Green

Care Instructions - Don't wash, use dry/wet cotton cloth to remove dirt.


Make your home look elegant when you start hanging your keys on this beautiful key holder by eCraftIndia. It has 4 key knobs and is very handy to use. Also, the Key Holder is beautifully crafted and caters to the needs of elegance.

| Product Information | |
| --- | --- |
| Product ID | 9170 |
| Name | Lord Ganesha Resting On Wrought Iron Key Holder |
| Size | 25.4 x 0.6 x 11.4 cm |
| Colour | Brown, Yellow and Green |
| Type | Home and Lifestyles |
| Brand | ECraftIndia |
| Sub Type | Key Holder |
| Material Involved | Wrought Iron |
Please Note: All products sold on Bazaarmantri are brand new and 100% genuine
RECOMMENDED PRODUCTS
Racing Horses Art Painting
Deal Price : Rs 937
Price : Rs 1499

Orange Abstract Art Painting
Deal Price : Rs 937
Price : Rs 1499

Purple Flowers Art Painting
Deal Price : Rs 726
Price : Rs 899

Brown & White Horses Painting
Deal Price : Rs 726
Price : Rs 899

Set Of 2 Meditating Buddha Art Painting
Deal Price : Rs 937
Price : Rs 1199

Abstract Tribal Woman Painting
Deal Price : Rs 726
Price : Rs 899

White Dancing Figurine Painting
Deal Price : Rs 726
Price : Rs 899

Radha Krishna Playing Flute Art Painting
Deal Price : Rs 726
Price : Rs 899

Lord Krishna Painting
Deal Price : Rs 726
Price : Rs 899

Radha Krishna Painting - Set Of 2
Deal Price : Rs 831
Price : Rs 999

Lucky Running Horses Under Water Art Painting
Deal Price : Rs 937
Price : Rs 1499

Face Of Lord Buddha Decorative Painting
Deal Price : Rs 726
Price : Rs 999

Lord Balaji Painting
Deal Price : Rs 937
Price : Rs 1499

Colorful Lord Ganesha Painting
Deal Price : Rs 937
Price : Rs 1499

Black Running Horses Art Painting
Deal Price : Rs 937
Price : Rs 1499

Colorful Dancing Figurine Art Painting
Deal Price : Rs 726
Price : Rs 999

Blessing Lord Ganesha Art Painting
Deal Price : Rs 937
Price : Rs 1299

Fall Season Scenary View Painting
Deal Price : Rs 726
Price : Rs 1299

Creatuve Radha Krishna Playing Flute Painting
Deal Price : Rs 621
Price : Rs 899

Radha Krishna Playing Music Art Painting
Deal Price : Rs 516
Price : Rs 799

Elegant Artistic Wall Clock
Deal Price : Rs 1552
Price : Rs 1600

Elegant Artistic Wall Clock
Deal Price : Rs 1552
Price : Rs 1600

Musical Instruments Wrought Iron Key Holder
Deal Price : Rs 844
Price : Rs 1099

Happiness Homemade Key Holder
Deal Price : Rs 1075
Price : Rs 1500

Lord Krishna Painting
Deal Price : Rs 895
Price : Rs 1499