Zara Mens Brown Faux Leather Distressed Outerwear Slim Fit Jacket



Market Price : Rs. 15299
You Save : Rs. 10300 [67% OFF]
Deal Price : Rs. 4999
Enter PINCODE below to know the delivery charges.
Inclusive of all taxes.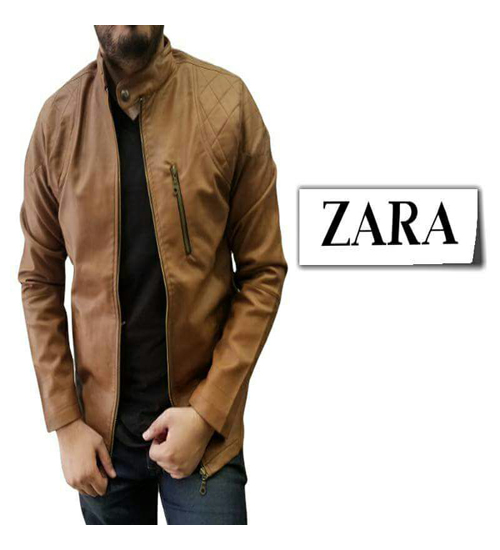 Check delivery and payment options at your location
---
*Free delivery on orders over Rs 999.00 (for general category items or items weighing under 500g) Delivery Details
About the Product
Includes Import Fees Deposit

Cash on Delivery and Bazaarmatri Pay balance not applicable.

| Product Information | |
| --- | --- |
| Product ID | 18278 |
| Name | Zara Mens Brown Faux Leather Distressed Outerwear Slim Fit Jacket |
| Size | 38 - 42 |
| Colour | - |
| Type | Clothing - Garments |
| Brand | Zara |
| Sub Type | Quilted Jacket |
| Material Involved | Leather |
Please Note: All products sold on Bazaarmantri are brand new and 100% genuine
RECOMMENDED PRODUCTS
Zara Man Knitted Blazer
Deal Price : Rs 1855
Price : Rs 4255

Zara Man Knitted Blazer
Deal Price : Rs 1890
Price : Rs 4259

Zara Man Knitted Blazer
Deal Price : Rs 1890
Price : Rs 4099

Zara Man Knitted Blazer
Deal Price : Rs 1890
Price : Rs 3645

Zara Man Knitted Blazer
Deal Price : Rs 1890
Price : Rs 3645

Zara Man Peccary Biker Jacket Rust
Deal Price : Rs 1955
Price : Rs 4099

Zara Man Peccary Biker Jacket Rust
Deal Price : Rs 1899
Price : Rs 4099

Zara Man Peccary Biker Jacket Rust
Deal Price : Rs 2185
Price : Rs 4450

Zara Man Black Leather Multi Pocket Ribbed Trim Bomber Style Biker Jacket
Deal Price : Rs 2245
Price : Rs 4099

Zara Man Black Leather Multi Pocket Ribbed Trim Bomber Style Biker Jacket
Deal Price : Rs 2156
Price : Rs 4520

Zara Man Mens Slim Fit Casual Shirts Colour Black
Deal Price : Rs 1545
Price : Rs 2999

Zara Men Navy Blue Solid Bomber Jacket
Deal Price : Rs 2599
Price : Rs 3599

Zara Men Lightweight Jacket
Deal Price : Rs 4095
Price : Rs 5804

Zara Man Mens Slim Fit Casual Shirts Colour Blue
Deal Price : Rs 1599
Price : Rs 2999

Zara Man Mens Navy Pea Coat Jacket Size
Deal Price : Rs 2999
Price : Rs 3999

Zara Mens Brown Faux Leather Distressed Outerwear Slim Fit Jacket
Deal Price : Rs 6185
Price : Rs 14599

Zara Mens Brown Faux Leather Distressed Outerwear Slim Fit Jacket
Deal Price : Rs 4999
Price : Rs 15299

Zara Mens Brown Faux Leather Distressed Outerwear Slim Fit Jacket
Deal Price : Rs 4585
Price : Rs 12299

Zara Mens Brown Faux Leather Distressed Outerwear Slim Fit Jacket
Deal Price : Rs 5304
Price : Rs 13600

Puma Full Sleeve Solid Men's Jacket
Deal Price : Rs 2655
Price : Rs 7585

Puma Full Sleeve Solid Men's Jacket
Deal Price : Rs 2395
Price : Rs 6199

Puma Full Sleeve Solid Men's Jacket
Deal Price : Rs 2685
Price : Rs 7299

Puma Full Sleeve Solid Men's Jacket
Deal Price : Rs 2455
Price : Rs 6285

Puma Full Sleeve Solid Men's Jacket
Deal Price : Rs 2465
Price : Rs 6608

Puma Full Sleeve Solid Men's Jacket
Deal Price : Rs 2599
Price : Rs 6585