Bhagalpur Katarni Rice (Chawal) Pack Of 5Kg





Market Price : Rs. 560
You Save : Rs. 85 [15% OFF]
Deal Price : Rs. 475
Best Quality Original Katarni Rice direct from the city of Bhagalpur.
Inclusive of all taxes.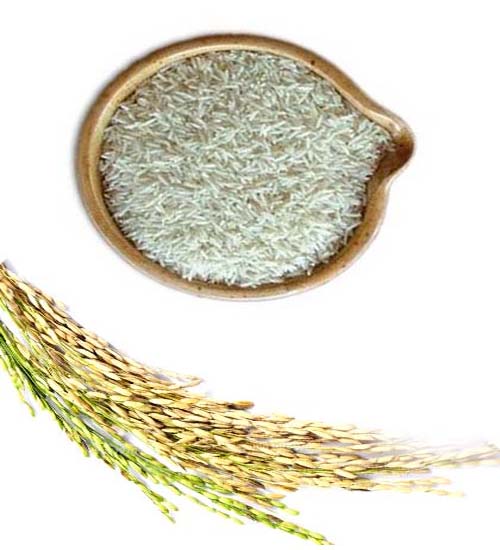 Check delivery and payment options at your location
---
*Free delivery on orders over Rs 999.00 (for general category items or items weighing under 500g) Delivery Details
About the Product
Katarni rice (chawal in Hindi) is a unique tasting, aromatic, short grain rice grown in India, in the state of Bihar. Grown natively in the Bhagalpur and Banka districts, Katarni rice is not only in demand in Bihar, but throughout the country.

Bhagalpuri Katarni Rice offers a natural source of nutrition and forms a dietary staple in many parts of the world. It can be treated in different ways after harvesting and appears on our store shelves in several forms. All types of rice contain a variety of nutrients; protein, carbohydrate, B vitamins, vitamin E, calcium and iron. Both brown and parboiled rice offer higher nutrition than untreated white rice. If you are looking for additional fiber in your diet, brown rice is the best choice. If your concerns are to increase vitamin intake, or if you find brown rice indigestible, parboiled rice is a nutritious option. If you are able to locate it, parboiled brown rice offers the highest nutrition of all.
Please Note: All products sold on Bazaarmantri are brand new and 100% genuine
RECOMMENDED PRODUCTS
Roasted Chana 500 Gm
Deal Price : Rs 150
Price : Rs 200

Anarsa 500 Gm
Deal Price : Rs 100
Price : Rs 250

Gur (Jaggery) | गुड़ -1Kg
Deal Price : Rs 110
Price : Rs 140

Home Made Chana Sattu,500 Gm
Deal Price : Rs 99
Price : Rs 150

Bhagalpur Katarni Chura Poha (Beaten Rice / Avalakki / Atukulu) - King - 2Kg
Deal Price : Rs 198
Price : Rs 298

Bhagalpur Katarni Rice (Chawal) Pack Of 5Kg
Deal Price : Rs 475
Price : Rs 560

Tilkut Fresh Gaya Tilkut (Gur) Pack Of 500G
Deal Price : Rs 200
Price : Rs 200

Tilkut Fresh Gaya Tilkut (Gur) Pack Of 1 Kg
Deal Price : Rs 400
Price : Rs 400

Bhagalpur Katarni Chura Poha (Beaten Rice / Avalakki / Atukulu) - King - 5Kg
Deal Price : Rs 495
Price : Rs 825

Bajaj Rcx 5 1.8-Litre Rice Cooker
Deal Price : Rs 1595
Price : Rs 2099

Bajaj 1.5 Ltr Rcx3 Rice Cooker
Deal Price : Rs 1595
Price : Rs 2500

(Pack Of 2) Patanjali Basmati Rice, Gold, 1Kg
Deal Price : Rs 204
Price : Rs 210

Patanjali Basmati Rice, Gold, 5Kg
Deal Price : Rs 504
Price : Rs 520

Havells Riso 1.8 Ol Ghcrcbow07
Deal Price : Rs 2971
Price : Rs 3495

Havells Max Cook Plus 1.8 Cl Ghcrcaow070
Deal Price : Rs 2886
Price : Rs 3395

Havells Max Cook Plus 1.8 Cl Ghcrcbkw070
Deal Price : Rs 3056
Price : Rs 3595

Havells Riso 2 Bowl 1.8 Ol Ghcrcbnw070
Deal Price : Rs 3141
Price : Rs 3695

Havells Riso 2.2 Ol Ghcrcbmw090
Deal Price : Rs 3226
Price : Rs 3795

Havells Max Cook Plus 2.8 Cl Electric Rice Cooker
Deal Price : Rs 4161
Price : Rs 4895

Bajaj Majesty New Rcx 5 Electric Rice Cooker 680013
Deal Price : Rs 1950
Price : Rs 2099

Bajaj Majesty Rcx1 Electric Rice Cooker 680017
Deal Price : Rs 1200
Price : Rs 1249

Vinod Oval Steel Rice Tray, 1Piece
Deal Price : Rs 378
Price : Rs 420

Roxx 5511 1.8 L Electric Rice Cooker
Deal Price : Rs 2027
Price : Rs 2385

Roxx 5508 1.8 L Electric Rice Cooker
Deal Price : Rs 1747
Price : Rs 2055

Bajaj Majesty Rcx 5 1.8 L Electric Rice Cooker
Deal Price : Rs 1784
Price : Rs 2099