Single By Choice Half Sleeve T-Shirt





Market Price : Rs. 499
You Save : Rs. 250 [50% OFF]
Deal Price : Rs. 249
Enter PINCODE below to know the delivery charges.
Inclusive of all taxes.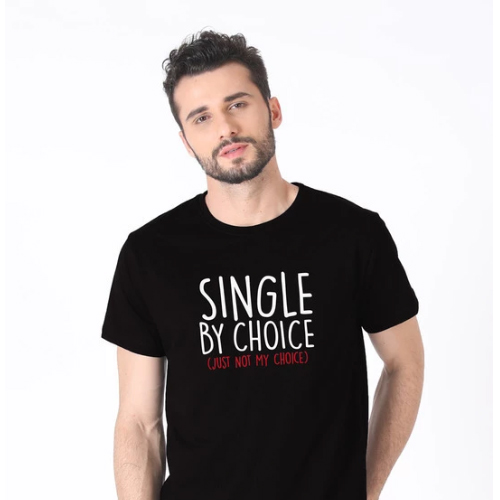 Check delivery and payment options at your location
---
*Free delivery on orders over Rs 999.00 (for general category items or items weighing under 500g) Delivery Details
About the Product
Fabric
100% cotton
Single jersey

Wash Care Instructions
- Tumble dry low.
- Do not bleach.
- Machine wash cold.
- Warm iron needed
- Dry in shade.
- Do not iron directly on prints.
- Do not wring.
Please Note: All products sold on Bazaarmantri are brand new and 100% genuine
RECOMMENDED PRODUCTS
Anarsa 500 Gm
Deal Price : Rs 100
Price : Rs 250

Gur (Jaggery) | गुड़ -1Kg
Deal Price : Rs 110
Price : Rs 140

Code Till You Die Half Sleeve T-Shirt
Deal Price : Rs 249
Price : Rs 499

Code Till You Die Half Sleeve T-Shirt
Deal Price : Rs 249
Price : Rs 499

Single By Choice Half Sleeve T-Shirt
Deal Price : Rs 249
Price : Rs 499

Single By Choice Half Sleeve T-Shirt
Deal Price : Rs 249
Price : Rs 499

Aa Raha Hoon Half Sleeve T-Shirt
Deal Price : Rs 249
Price : Rs 499

Aa Raha Hoon Half Sleeve T-Shirt
Deal Price : Rs 249
Price : Rs 499

Rock Soldier Half Sleeve T-Shirt (Wwel)
Deal Price : Rs 249
Price : Rs 499

Rock Soldier Half Sleeve T-Shirt (Wwel)
Deal Price : Rs 249
Price : Rs 499

Stone Cold Half Sleeve T-Shirt (Wwel)
Deal Price : Rs 249
Price : Rs 499

Stone Cold Half Sleeve T-Shirt (Wwel)
Deal Price : Rs 249
Price : Rs 499

Ha Ha Ha Half Sleeve T-Shirt
Deal Price : Rs 249
Price : Rs 499

Ha Ha Ha Half Sleeve T-Shirt
Deal Price : Rs 249
Price : Rs 499

Bunk Marte Hai Half Sleeve T-Shirt
Deal Price : Rs 249
Price : Rs 499

Bunk Marte Hai Half Sleeve T-Shirt
Deal Price : Rs 249
Price : Rs 499

Being Late Half Sleeve T-Shirt
Deal Price : Rs 249
Price : Rs 499

Being Late Half Sleeve T-Shirt
Deal Price : Rs 249
Price : Rs 499

Shit Done Typo Half Sleeve T-Shirt
Deal Price : Rs 249
Price : Rs 499

Shit Done Typo Half Sleeve T-Shirt
Deal Price : Rs 249
Price : Rs 499

Diet Na Ho Payega Half Sleeve T-Shirt
Deal Price : Rs 249
Price : Rs 499

Diet Na Ho Payega Half Sleeve T-Shirt
Deal Price : Rs 249
Price : Rs 499

Ocean Blue Half Sleeve T-Shirt
Deal Price : Rs 249
Price : Rs 499

Pine Green Half Sleeve T-Shirt
Deal Price : Rs 249
Price : Rs 499

Stone Grey Half Sleeve T-Shirt
Deal Price : Rs 249
Price : Rs 499