Divya Youvnamrit Vati





Deal Price : Rs. 250
COD Available.
Inclusive of all taxes.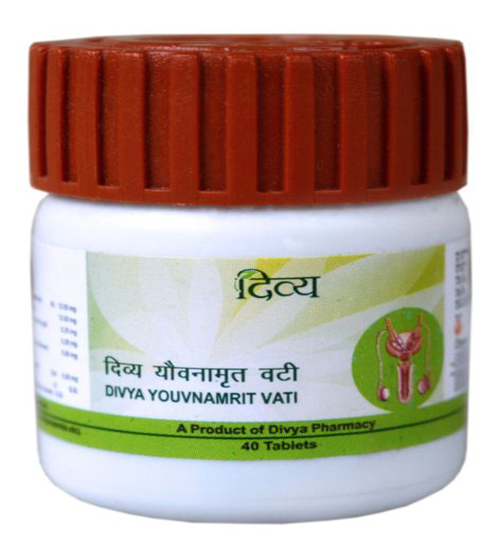 Check delivery and payment options at your location
---
*Free delivery on orders over Rs 999.00 (for general category items or items weighing under 500g) Delivery Details
About the Product

Divya Youvnamrit Vati is made for any kind of sexual problems in male. These problems may include premature ejaculation, general debility, and decreased strength.
Benefits
useful in male infertility all types of semen problems as oligospermia etc.
Ingredients


Ashwagandha (Withaniasomnifera)


Konch Shuddha (Mucuna pruriens)


Satavar(Asparagus racemosus)


Safed Musli(Chlorophytum arundinaceum)


Javitri (Myristica fragrans)


Jaiphal (Myristica fragrans)


Shuddh kuchla (Strychnos nuxvomica)


Akarkara (Anacyclus pyrethrum)


Jundbedaster (Castorium)


Swarn Bhasma (Incinerated oxide of gold)


Praval Pishti (Coral)


Vang Bhasma(Thermprocessed stanum)


Shilajit Shuddh Asphaltum


Pan Ras(Piper betle)


How to use

1-2 tablets twice a day after meals with water or milk or as directed by the physician

Please Note: All products sold on Bazaarmantri are brand new and 100% genuine
RECOMMENDED PRODUCTS
Divya Youvnamrit Vati
Deal Price : Rs 250
Price : Rs 250

Divyakala Dk20 Rangoli Stencil
Deal Price : Rs 281
Price : Rs 290

Divya Cotton Salwar Suit
Deal Price : Rs 959
Price : Rs 1599

Divya Cotton Salwar Suit
Deal Price : Rs 959
Price : Rs 1599

Divya Cotton Salwar Suit
Deal Price : Rs 959
Price : Rs 1599

Divya Cotton Salwar Suit
Deal Price : Rs 959
Price : Rs 1599

Divya Cotton Salwar Suit
Deal Price : Rs 959
Price : Rs 1599

Divya Cotton Salwar Suit
Deal Price : Rs 959
Price : Rs 1599

Divya Cotton Salwar Suit
Deal Price : Rs 959
Price : Rs 1599

Divya Cotton Salwar Suit
Deal Price : Rs 959
Price : Rs 1599

Divya Cotton Salwar Suit
Deal Price : Rs 959
Price : Rs 1599

Divya Cotton Salwar Suit
Deal Price : Rs 959
Price : Rs 1599

Divya Cotton Salwar Suit
Deal Price : Rs 959
Price : Rs 1599

Divya Cotton Salwar Suit
Deal Price : Rs 959
Price : Rs 1599

Divya Cotton Salwar Suit
Deal Price : Rs 959
Price : Rs 1599