K7 Total Security - 1 Pc, 1 Year (Cd)






Market Price : Rs. 2499
You Save : Rs. 1859 [74% OFF]
Deal Price : Rs. 640
Inclusive of all taxes.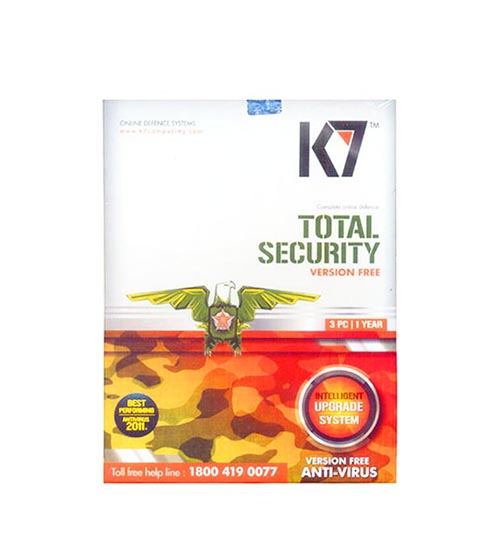 Check delivery and payment options at your location
---
*Free delivery on orders over Rs 999.00 (for general category items or items weighing under 500g) Delivery Details
About the Product
From the Manufacturer
K7 TOTAL SECURITY is our award-winning Internet Security Suite with the fastest antivirus engine on the market. It is a complete package to protect home user systems against data theft and system invasion by complex malware.

Parental Control
Activity Report - Monitor the internet activities of children and blocks access to hostile environment.
Content filter - Protect what kind of content children are allowed to view.
Comprehensive Device Control
Control feature to read, write and execute access to external device.
Scans USB device and prevents malicious auto runs.
USB drives are immunized to prevent infection.
Web Security
Safe cloud based website verification and blocking of phishing and unsafe websites.
Stealth mode keeps the system invisible when connected to internet.
Detailed configuration option for advanced users.
Automatic prompt when passwords are entered into unsecure websites.
Smart IDS to stop network based attacks.
USB Protection
Auto scans USB media for concealed threats and vaccinates USB devices from getting infected.
Privacy Protection
Control access to protect data that can be shared on internet.
Profile Security
Usernames and passwords protection for all applications and a virtual keyboard for identity protection.
Disk Optimizer
Optimizes disk drives so that the system performance is smooth and efficient.
Permanent Data Delete Tool
Erase permanently all data that you would not want the bad guys to lay hands on.
Enhanced Real Time Scanner
Smart file scanning algorithm to detect exploits in any file.
Please Note: All products sold on Bazaarmantri are brand new and 100% genuine
RECOMMENDED PRODUCTS
Wardwiz India Solutions Pvt. Ltd. Wardwiz Essential Pack
Deal Price : Rs 550
Price : Rs 1599

Quick Heal Total Security Latest Version ( 3 / 1 ) Cd
Deal Price : Rs 2295
Price : Rs 3508

Quick Heal Total Security 2 Pc, 1 Year(Cd)
Deal Price : Rs 1495
Price : Rs 2149

Quick Heal Antivirus Pro - 1 Pc, 1 Year (Cd/dvd)
Deal Price : Rs 645
Price : Rs 999

Escan Internet Security Version Free,latest Version ( 1 / 1 ) Cd
Deal Price : Rs 495
Price : Rs 899

K7 Total Security Version Free ( 1 / 1 ) Cd
Deal Price : Rs 595
Price : Rs 1299

Prodot Total Security
Deal Price : Rs 495
Price : Rs 999

Quick Heal Total Security Latest Antivirus 1 User ( 1 Pc ) 3 Year (Key+Copy Cd)
Deal Price : Rs 2399
Price : Rs 2899

K7 Total Security - 1 Pc, 1 Year (Cd)
Deal Price : Rs 640
Price : Rs 2499

Quick Heal Total Security Antivirus 1 User 1 Year
Deal Price : Rs 1606
Price : Rs 2015

Guardian Netsecure Antivirus
Deal Price : Rs 455
Price : Rs 699

K7 Gold Lifetime Antivirus & Internet Security - 1 Pc
Deal Price : Rs 2885
Price : Rs 2999