Lord Ganesha Resting On Wrought Iron Key Holder



Market Price : Rs. 1999
You Save : Rs. 600 [30% OFF]
Deal Price : Rs. 1399
Inclusive of all taxes.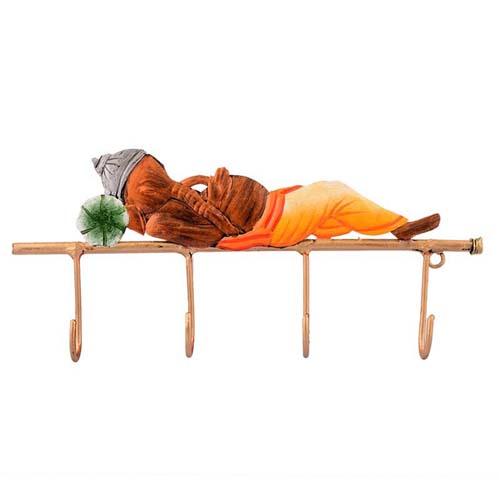 Check delivery and payment options at your location
---
*Free delivery on orders over Rs 999.00 (for general category items or items weighing under 500g) Delivery Details
About the Product
Material Type : 100 % Cotton Canvas

Dimensions : 18x22 Inches (46 x 56 Cms

Product Code : 517185

Beautify your room's wall with this Digital Print on thick canvas without frame from meSleep. Printed on Canvas material, this eye-catching painting will enliven the look of your home decor. This painting also makes for a wonderful gifting option.

Please Note: All products sold on Bazaarmantri are brand new and 100% genuine
RECOMMENDED PRODUCTS
Golden Buddha Canvas Painting Without Frame Medium Size
Deal Price : Rs 399
Price : Rs 1599

Abstract Horse Canvas Painting Without Frame Large Size
Deal Price : Rs 449
Price : Rs 1999

Meera Krishna Canvas Painting Without Frame Small Size
Deal Price : Rs 350
Price : Rs 999

God Canvas Painting Wall Art Without Frame
Deal Price : Rs 499
Price : Rs 1999

Ganpati Ji With Crown & Tambura Canvas Painting Without Frame Medium Size
Deal Price : Rs 399
Price : Rs 1599

Radha Krishna Canvas Painting Wall Art Without Frame
Deal Price : Rs 399
Price : Rs 1599

Side Horse Canvas Painting Wall Art Without Frame
Deal Price : Rs 449
Price : Rs 1999

Lovely Modern Krishna Canvas Painting
Deal Price : Rs 678
Price : Rs 825

Dancing Radha Krishna Canvas Painting Wall Art Without Frame
Deal Price : Rs 449
Price : Rs 1999

Buddha Canvas Painting Without Frame Small Size
Deal Price : Rs 350
Price : Rs 999

Beautiful Buddha Enlightenment Canvas Painting
Deal Price : Rs 699
Price : Rs 825

Radha Krishna Black Canvas Painting Without Frame Large Size
Deal Price : Rs 879
Price : Rs 1999

Modern Krishna Canvas Painting
Deal Price : Rs 678
Price : Rs 825

Running Horse Canvas Painting Without Frame Medium Size
Deal Price : Rs 850
Price : Rs 1599

Four Black And White Horses Canvas Painting Without Frame Large Size
Deal Price : Rs 879
Price : Rs 1999

Beautiful Krishna Canvas Painting
Deal Price : Rs 678
Price : Rs 825

Rust Om Canvas Painting Wall Art Without Frame
Deal Price : Rs 899
Price : Rs 1999

Radha Krishna Black Canvas Painting Wall Art Without Frame
Deal Price : Rs 890
Price : Rs 1999

Calm Buddha Canvas Painting
Deal Price : Rs 678
Price : Rs 825

Ganpati Canvas Painting Wall Art Without Frame , Canvas Painting , Painting , Wall Art ,
Deal Price : Rs 925
Price : Rs 1999

Om Blue Canvas Painting Without Frame Small Size
Deal Price : Rs 725
Price : Rs 999

Lord Ganesha Resting On Wrought Iron Key Holder
Deal Price : Rs 1399
Price : Rs 1999

Life Like Painting
Deal Price : Rs 774
Price : Rs 900

Ethnic Shree Krishna Canvas Painting
Deal Price : Rs 701
Price : Rs 825

White Running Horses Canvas Painting Wall Art Without Frame
Deal Price : Rs 1399
Price : Rs 1999